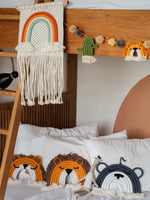 Get ready for absolute cuteness!
We really love decorating rooms for kids! There's nothing more exciting than putting adorable & simple things together and getting amazing results.
Having our own bubbas, we know how their surroundings greatly inspire creativity, curiosity and happiness. It's so important that we make a space that is colorful, relaxing but reflects their personalities too. To help make them feel truly at home.
Here are some fun ideas for your kids' room or play area with some unique, handmade creations from Bali. We hope you love them as much as we do and as much as we had in preparing them with your little ones in mind.
Macramé Bunting 
The most delightful little lion cubs, cactus and pompoms hanging out beside each other give instant sunshine and cheer in your child's room.
Super safe and easy to put up too!
Macramé Rainbow Wall Hang
Be inspired with a beautiful rainbow design and soft rope surrounding this simple but timeless design. You can hang it on the wall and also beside your child's bed.
Macramé Animal Wall Hang
Available in Unicorn, Lion and Bear designs to bring smiles and sweet dreams. 
Cotton Throws & Cute Prints
Adorable animals designs on soft and snuggly cotton throws to keep bubba nice and warm. Easy to wash ~ hard to let go of on laundry day.
There you have it! Some fun ideas for your child's room to bring some colorful and happy energy in! Enjoy. Let us know how it goes!