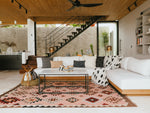 With the current theme of staying at home,
there's never been a more perfect time to decorate your space.
Thinking about adding a new lamp or carpet in the bedroom?
Perhaps add more life to your living area or
just a little something to give the house a mini-makeover?
We've put together some pretty additions such as
comfy throws, pillows, trinket trays, kitchen decor and more.
Here's our list of what you need now while staying
"Di Rumah" / At Home 
from us at Fern.
1. leaf trinket tray - forget the days when you say "where in the world are those keys?".
This beautiful brass tray holds that and other important things right by your door.
Easy to remember and hard to ignore - because it's so cute!
2. comfy throw - these handmade pillows and throws are the best way to add some excitement to your living room or bedroom.
Serene shades of pink and peach, it keeps you relaxed and warm.
You can mix and match easily or use as a set.
3. brass napkin holders - since we're all doing takeaway and eating more at home, make dining fun & fancy!
Why not?
Whip out those nice linen napkins and slip them through these beauties. Date night anyone?
4. brass bottle opener - ice cold beer, the soft comfy throw we talked about, Netflix and chill.
None of that would be possible without ____?
You guessed it.
This pretty brass bottle opener for your favorite bev or brew. Enjoy!
5. brass gingko hook - for your necklaces / accessories, keys, towel, jacket
- just about anything.
With a beautiful vintage feel. Instant conversation starter when friends come over.
6. brass cutlery - refer to # 3. Eating - next level.
If you want to celebrate or just want to feel special.. every single day.
Use these. They make having takeaway feel like a Michelin star experience.
7. brass gingko spoons / cutlery - what's better than a brass gingko wall hang and brass cutlery? well, gingko brass cutlery!
Just kidding. Not really.
Think salad with friends ( or your in-laws ) and these two. Schmancy.
8. wooden decorative bowl - this pretty leaf-shaped bowl is a holder of many. 
Bills, change, keys, jewelry and most anything you can think of. Makes organizing special and easy.



So there you have it. Little big things that make a beautiful difference at home.
Everything you see above are available on our website and in our Bali store. 
Happy house decorating and share with us your style so we can feature them on our IG too! Take care x