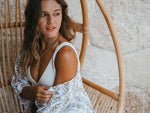 We caught up with one of our favorite Canggu beauties, Alexandra Saper.
World traveler - ( over 60 countries, and counting! ), she left her career as a lawyer
in Washington DC more than 3 years ago to move to Bali.
Now, a regular surfer in the local beaches, she lives an active and healthy lifestyle, surrounded by good friends made during her stay here. 

She's built a full-time business inspiring many with her travels and adventures in
Bali chronicled on her IG account ~ @thewayfaress. We love following her messages of female empowerment and self-discovery too.
Alex wearing our Kimono Robe in Tropical Black

She also has a sustainable clothing business ~ Sendiri Label which aims to uplift
& inspire women. 
Alex moved into a new villa recently. Naturally, she needed some beautiful
additions to create a welcoming and special space.

Always a delight to have over, she picked up a few things in the store for her new
house and tells us why she chose them for her space.

Here's a sneak peek of her little treasures at home with Fern.

Indochine bowls that are popular for their beautiful blue and white motif and
multi-purpose. Alex uses for her sage and incense.
Visit the shop or send us a DM for more on our Indochine bowls. 
Ceremonial Brass Bells
These beautiful bells are called Ghanta and were made in brass by local Balinese artisans in Indonesia.
These are ritual bells used for Hindu ceremonies in Bali.
To shop more bowls and decor click here. For the ceremonial bells click here.
Cotton throws and cushions with a tribal feel and timeless designs.
Perfect for a cozy cover up on cool nights.
To shop the cotton throws and cushions click here.
All the items above and in our store are sustainably handmade by local artisans in Java and Bali.
For more home and decor inspo, head over to our Instgram account and share what you love at Fern or your favorite items at home by Fern. 
We'd love to know!